AEGEE
Brussels, Belgium
AEGEE (Association des Etats Généraux des Etudiants de l'Europe / European Students' Forum) is a student organisation established in 1985 in Paris, gathering more than 13'000 members, from 200 universities of more than 40 European countries. The main aims of AEGEE are: promoting a unified Europe, striving for creating an open and tolerant society and fostering democracy, human rights, tolerance, cross-border cooperation, mobility and European dimension in education. AEGEE focuses its actions on 4 Fields of Action (Cultural Exchange, Active Citizenship, Higher Education, Peace & Stability) and 3 Focus Areas (Youth Participation, Bridging Europe and Inclusion of Minorities). The most known achievements of the organisation are: lobbying for the Lifelong Learning Programme ERASMUS and Summer University. AEGEE has participatory status in the activities of the Council of Europe, consultative status at the United Nations, operational status at UNESCO and is at the same time a member of the European Youth Forum. It also enjoys the general partnership of a number of illustrious personalities: Mikhael Gorbatchev, Vaclav Havel, Eric Froment, Wolfgang Thierse and Romano Prodi.
Analytical Center on Globalization and Regional Cooperation
Yerevan, Armenia
Established in 2002, ACGRC works as both a think-tank and an advocacy group, aiming at promotion of democratic values, strengthening of civil society and the rule of law in Armenia, development of free market economy, regional integration and peaceful resolution of regional conflicts. Our research interests include study of globalisation issues, study of global processes and their influence on regional cooperation, protection of human rights within the globalisation processes. ACGRC has been one of the active supporters of the process of normalisation of relations with Turkey. ACGRC won the "Black Sea NGO Award for Excellency in promoting regional cooperation in the Black Sea region".
Association for International Affairs (AMO)
Prague, Czech Republic
The Association for International Affairs is a non-governmental organization founded to promote research and education in the field of international relations. Thanks to its activities and more than ten-year tradition, Association has established itself as the preeminent independent foreign policy think-tank in the Czech Republic. The Association facilitates expression and realization of ideas, thoughts and projects in order to increase education, mutual understanding and tolerance among the people. The organization focuses its activity on three pillars: education, international projects and research.
Barents Institute
Tromsø, Norway
In response to the need to produce knowledge about and to explain the border region between Norway and Russia, and to gain competence on the transnational relationships among the countries in the Barents Region, The Barents Institute was forged in 2006. The central focus of The new Barents Institute is on the research and knowledge production regarding border regions and borderlands in Europe.  In the process, we aim to fill a niche in Norwegian academia, which does not yet offer a specialization on border studies and research. Located in Northern Norway, The Barents Institute also pursues goals outlined in Norway's strategic plans on the High North within the Barents Region and in comparative perspective. 
Belarus Watch, Lithuania
Vilnius, Lithuania
The Belarus Watch is an organization which stands for democracy and human rights in Belarus, EU-Belarusian people-to-people contacts, building bridges and dismantling walls, Lithuania and Belarus sharing their history, youth of Belarus and EU sharing their future. The main idea is: No visa barriers! No isolation! The occupations of BYwatch are public activism, "Anti-visa" monitoring, lobbying and advocacy, ideas, projects, cultural activities, election observation, information and consulting and also having fun together.
Caucasus Institute for Peace, Democracy and Development (CIPDD)
Tbilisi, Georgia
CIPDD is a public policy think-tank established in 1992, specialized in a broad area of democracy development and its expertise covers democratic institution building, good governance, freedom of speech and expression, education, civil integration and civil society development, and European and Euro-Atlantic cooperation. As a member of PASOS and NDRI, CIPDD regularly organizes public debates, prepares analytical publications and implements advocacy activities.
CIPDD has implemented more than 150 projects, most of them in cooperation with its partners from EaP countries and the EU. In 2010-2011 CIPDD was local partner in the PASOS project was Paving the Road towards Visa-free Travel between the EaP countries and the EU, supported by the Local Government and Public Service Reform Initiative (LGI) of Open Society Foundations. CIPDD plans to continue working on the issues related to visa liberalization between EU and Georgia.
Center for Economic and Social Development
Baku, Azerbaijan
The Center for Economic and Social Development (CESD), top think tank in Azerbaijan, has been set up to promote research and analysis into domestic economic and social issues for the purpose to positively influence the public policy decision-making processes. The Center is a leading Azerbaijani think tank specialized in economic and social policy issues working with and establishing bridge between the government and the various representatives of civil society. At the same time, as leading NGO in Azerbaijan, the Center positions itself in the center of the civil society having tight relationships with media, 24 communities spread around Azerbaijan, NGOs providing services at the grass-root level, international think-tanks, financial institutions and donors, and virtually all the other think tanks functioning in Azerbaijan.
Center for International Relations (CIR)
Warsaw, Poland
CIR is an independent, non-governmental think-tank, dedicated to the study of international relations and those foreign policy issues, which are of crucial importance to Poland, Europe and transatlantic relations. CIR carries out its own research projects, prepares reports and analyses and participates in international projects in cooperation with similar institutions in several countries. CIR focuses on analytical and educational activities. Since its creation in 1996, the CIR has become an influential forum for foreign policy analysis and debate, involving leading politicians, diplomats, civil servants, local government officials, businessmen, journalists, students and representatives of other NGOs.
Center for Social Innovations
Minsk, Belarus
Center for Social Innovations is a group of like-minded people active in the field of adult education and socio-economical development. Their legal position: a non-governmental, non-commercial, not-for-profit organization, which has been already twice registered in Minsk. According to the Statute CSI carries out its activity in Minsk but in association with other county and local organizations we export our projects to a number of settlements in Belarus (with ambitions to expand abroad). The mission of the CSI is to promote the development of both free, creative, sociable people and human communities, which being built on co-operation and mutual respect will become the "incubators" for democratic culture.
Civic Belarus, the Czech Republic
Prague, Czech Republic
The International Association Civic Belarus was established in 2004 in order to support democratic initiatives and diverse ways of developing civil society and free media in Belarus. The Association strives to support non-governmental and non-profit organizations in Belarus, including those civic initiatives which have been deprived of the ability to operate legally by the regime of Alexander Lukashenka. Another aim of Civic Belarus is to share Czech know-how and experience in transformation with Belarusian organizations.
DEMAS – Association for Democracy Assistance and Human Rights
Prague, Czech Republic
DEMAS, an independent platform of Czech NGOs, was established in 2008. The founding membership comprises 11 NGOs that have over many years demonstrated their commitment to the support of democracy assistance, human rights and civil society in the Czech Republic and abroad. In 2010 two other Czech NGOs joined the platform. DEMAS builds on the solid foundations laid by the important segment of the Czech non-profit sector engaged in the field of democracy assistance, on the Czech experience and know-how of the transition to democracy, and also on an enduring sense of shared responsibility for democratic development in countries less fortunate than the Czech Republic. Within the framework of DEMAS, the members will be able to identify their common interests and values, and co-operate more effectively in achieving the maximum impact in the field of human rights.
Eastern Europe Studies Centre
Vilnius, Lithuania
The Eastern Europe Studies Centre is a non-governmental, non-profit organization aiming to build civil society and promote democracy in Eastern Europe by monitoring and researching political, economic, and social developments in the region, and their qualitative analyses. EESC organizes conferences, seminars, and round-table discussions regarding issues relevant to civil society and democracy. It trains people in areas relevant to its mission and offers consultations and recommendations to individuals and organizations cooperating with Belarus, Ukraine, Moldova, and Georgia. EESC specializes in the EU Eastern neighbourhood policy.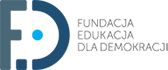 Education for Democracy Foundation (FED)
Warsaw, Poland
FED is an independent, nonprofit and nonpartisan organization, which promotes the dissemination of knowledge concerning democracy and a free market economy as well as provide skills for civic activity in a democratic state. The Foundation's initial task is granting assistance in this field to educators and activists of non-governmental, trade union, youth and local governmental organizations in Poland and other countries of Eastern Europe, Caucasus and Central Asia. In building its programs on a foundation of local traditions and culture, FED cooperates with people of various nationalities, religious beliefs and political convictions.
EuroMeSCo
Barcelona, Spain
EuroMeSCo (the Euro-Mediterranean Study Commission) is the main network of research centres on politics and security in the Mediterranean. EuroMeSCo was set up in 1996 with the goal of fostering research, information and social relations among its members as well as acting as a confidence-building measure in the framework of the Barcelona process. EuroMeSCo comprises 99 institutes coming from 33 countries out of the 43 members of the Union for the Mediterranean.
In line with the objective to foster influential analysis on Euromediterranean politics and policies, EuroMeSCo is currently developing:
A research programme that promotes analytical and policy-oriented projects with the participation of the network's members and their experts.
A series of conferences, seminars and workshops for the debate on politics and security in the Mediterranean.
A wide range of publications aimed at promoting and disseminating the research activities of its members.
A website and a newsletter to promote the exchange of the research activities of its members.
European Initiative – Liberal Academy Tbilisi (LAT)
Tbilisi, Georgia
The foundation "Liberal Academy Tbilisi" (LAT) was established in December 2006 as a non-governmental, nonprofit organization, committed to promoting core democratic values, supporting peace-building and European and Euro-Atlantic integration and with that fostering the democratic development of Georgia and the whole Southern Caucasus region. The LAT organizes over twenty capacity building trainings, educational seminars and high level expert meetings annually.
The LAT started its analytical program European Initiative – Liberal Academy Tbilisi (EI LAT) in January 2010 which  embarks upon policy research and analysis with the aim to spark much needed debates on Georgia's and eventually EaP region's European future and contribute to policy agenda with its independent expertise. On the one hand, the LAT aims to translate Europe for local stakeholders in a way that will make it easier for policy makers to work towards future integration and for citizens to understand the issues at stake in order to hold the government accountable to this task. On the other hand, LAT aims to reach out to the policy-makers and expert circles in Brussels and other western capitals with the aim to help them better understand Georgia's and region's aspirations and  keep a track of the developments in order to encourage a well-informed reciprocity. The LAT, therefore, zooms into different stories of transition which reflect upon the dynamics of development and carry implications for the future. Its research products aim to take a fresh look and critically analyze key aspects of transition and, by that, contribute to crucial policy debates.
European Citizen Action Services (ECAS)
Brussels, Belgium
ECAS was created in 1990 as an international non-profit organization, independent of political parties, commercial interests and the EU Institutions. Our mission is to enable NGOs and individuals to make their voice heard within the EU by providing advice on how to lobby, fundraise, and defend European citizenship rights. We are a large cross-sectoral European association bringing together members from different areas of activity: civil liberties, culture, development, health and social welfare, as well as general civil society development agencies.
Europe without Barriers, Ukraine
Kyiv, Ukraine
Europe without Barriers (EWB) is an independent civil society organization based in Ukraine, established to promote independent expertise and advocacy efforts aimed at abolition of visa regimes and other administrative barriers to improve people-to-people contacts in Europe. In 2008 a group of Ukrainian NGOs from different regions and cities founded EWB with the purpose to provide independent policy expertise and public advocacy in favour of visa liberalization. Initially in 2008 EWB was established as a consortium of NGOs, later in 2009 EWB was upgraded and transformed into full-fledged independent NGO.
EUROBELARUS
International Consortium EUROBELARUS was established in 2007 as non-commercial partnership of legal and private entities and a component of the project of Danishorganization "The European House". In 2008 founders decided to expand the program of activities and cooperate with wider circle of organizations supporting the idea of pro-european development of Belarus as equal partner in European relations. The Mission of EUROBELARUS is organizing and providing position of civil society as equal, competent and representative actor in Belarusian-European cooperation and dialogue according to principles declared in The European Charter of Active Citizenship from May 2006.
EUROPEUM
Prague, Czech Republic
EUROPEUM Institute for European Policy is a non-profit, non-partisan and independent institute. It focuses on the issues of European integration and its impact on the transformation of political, economic and legal milieu in the Czech Republic. EUROPEUM strives to contribute to a long-lasting development of democracy, security, stability, freedom and solidarity across Europe.
The strategic aim of the Institute is among others contributing to the transition and democratization in the EU neighbourhood: supporting the process of integration of the West Balkan countries and Turkey, reforms and democratic development, as well as cooperation with the EU among EaP countries. In this respect it contributes to improve the EU's external action instruments and strengthen the capacity of civil society actors in the EU neighbourhood to engage in policy dialogue. EUROPEUM is running different projects in EaP countries and in Western Balkans that aims at transition of the know how generated during the accession process of the Czech Republic. They strongly believe that visa represents a major obstacle for "europeanization" of the EU neighbourhood thus they support all the activities that lead towards their abolition.
Foreign Policy Association (APE)
Chisinau, Moldova
The Foreign Policy Association of Moldova, Asociatia pentru Politica Externa (APE) is Moldova's leading foreign policy think-tank, committed to supporting Moldova's Europeanization, integration into the European Union and a viable settlement of the Transnistrian conflict. It was established in fall 2003 by a group of well-known experts, public personalities and former senior officials and diplomats reunited by their commitment to contribute their expertise and experience to a comprehensive analysis of Moldova's foreign policy options and formulation of an efficient foreign policy.
Foundation Our Choice
Warsaw, Poland
The Foundation was established in 2009 by Ukrainians and Poles as a migrants organization, oriented on integration of Ukrainian migrants in Poland. Mission of the organization is to support development of cultural, educational, economic and political contacts between Poland and Ukraine and to promote the democratic values and civic society. To realize this mission Organization participated in numerous projects.
Moreover, the Foundation is a member of the European Integration Forum (European Commission and the European Economic and Social Committee) since 2010. Currently Foundation is running "Information Resources for Ukrainian Migrants in Poland" project supported by EFI and serves as a partner of IOM Poland in the project "Empowering Migrant Youth: Models of Integration and Prevention of Exclusion" also supported by EFI.
Free Belarus Initiative, Poland
Warsaw, Poland
Free Belarus Initiative is a group of young people actively interested in promoting pro-democratic transformation in Europe. Many of them organised daily demonstrations and happenings during the 2004 Orange Revolution in the Ukraine and later on conducted a journey of observers to the Kharkov region in eastern Ukraine, due to the repeated run-up to the presidential elections. The voting was supervised by 250 members of the Polish Observer Mission which they organised.
Georgian Foundation for Strategic and International Studies
Tbilisi, Georgia
GFSIS attempts to improve Georgia`s political and economic climate through conducting various activities, including research and training programs that will ultimately contribute to the establishment of a genuine democracy in the country, promote efficient governance, and spread values common to all mankind.
Georgian Institute for Strategic Studies
Tbilisi, Georgia
The Georgian Institute for Strategic Studies (GISS) is a non-profit, non-partisan think-tank founded in 2012. The GISS's mission is to serve as a resource for interested parties in understanding political, security and foreign policy choices before Georgia and the wider region. The GISS carries out its mission by:
Contributing to the policy debate in Georgia and elsewhere through its analyses, recommendations and commentaries;
Establishing a venue for the pluralistic exchange of opinions among various societal groups and government agencies;
Investing in youth leadership through knowledge-sharing, skill-development trainings and hands-on activities;
Supporting the public diplomacy and people-to-people initiatives for conflict resolution purposes;
Conducting study visits and exchanges for sharing Euro-Atlantic values and principles;
Researching on political and foreign policy trends in Georgia and the region;
Serving as a knowledge-sharing hub between hands on professionals and parties interested to explore expertise and experience accumulated throughout Georgia's transition.
Berlin, Germany / Saint-Petersburg, Russia
Active citizenship, access to education, a solidarity-based community, independent media and the participation of all social groups in political decision-making processes are basic requirements of every democratic society. The Deutsch-Russischer Austausch (German Russian Exchange, DRA) contributes to the protection and promotion of these values with a wide range of different activities.
The DRA is a non-governmental, non-profit organization, founded in Berlin in 1992 with the subjective to support democratic development in Russia. Today it takes an active role particularly in the Russian Federation, Germany, Ukraine and Belarus.
Together with its partner organization DRA in Saint-Petersburg, as well as numerous international partners, the DRA implements projects to strengthen civil society and on issues as ecology, media, education, human rights, ethnic reconciliation and multicultural integration. With exchange programms e. g. for young volunteers, journalists, social workers and students, the DRA contributes to a dialogue across Europe. The DRA is one of the initiators of the EU-Russia Civil Society Forum.
Hungarian Europe Society
Budapest, Hungary
The Hungarian Europe Society as a non-governmental and non-partisan organization, which intends to be involved in the ongoing international dialogue on the future of liberal democracies. The core of its interest and activities – although not exclusively – is the European Union and the Hungarian membership inside the Union. Its objective is to represent and promote the idea of a united Europe, and the European common values, in Hungary and abroad. Among the members of the society there are social scientists, journalists, diplomats, and students.
IDIS Viitorul
Chisinau, Moldova
The Institute for Development and Social Initiatives (IDIS) "Viitorul" is a liberal think tank, not affiliated to the government or any political party, established in June 1993 in Moldova.
The Institute is an active supporter of the visa liberalisation between the EU and the Eastern Partnership countres as well as other regions. During the last two years IDIS "Viitorul" was involved in many activities related to visa liberalization process in Moldova, such as monitoring of the visa liberalisation Action Plan, research as well as dialogue with authorities and members of the public on the subject.
Institute for Euro-Atlantic Cooperation (ІEAC)
Kyiv, Ukraine
ІEAC is an independent non-governmental organization working on studying the processes of European and Euro-Atlantic Integration of Ukraine. ІEAC aims to conduct an analysis, propose recommendations and forecasts for the international affairs sector in general and the foreign policy of Ukraine in particular. The Institute's main task is to popularize the idea of the European and Euro-Atlantic integration among the Ukrainian society. For this purpose, the Institute is mainly focused on two fundamental activities: analytical research and information education.
Institute for Public Policy, Moldova
Chisinau, Moldova
The Public Policy Institute is an independent, non-partisan and non-profit organization, committed to the values of individual liberty, democratic society, rule of law, free market economy. Through research, publications, policy recommendations and public forums the Institute provides political, business, academic community and media leadership with a deep analysis of public policy issues confronting our society in order to improve the policymaking process.
Institute of Public Affairs (IPA)
Warsaw, Poland
The Institute of Public Affairs (IPA) is an independent, non-partisan public policy think tank. The IPA was established in 1995 to support modernisation reforms and to provide a forum for informed debate on social and political issues. It conducts research as well as societal analysis and presents policy recommendations. The IPA aims to implement projects significant for the public domain, initiate public debates, identify potential threats to the social fabric and anticipate future problems, offer new ideas for policies aimed at solving existing and future problems and act as a bridge between academia, the world of politics, the media and NGOs.
International Youth Human Rights Movement (YHRM)
Voronezh, Russia
International Youth Human Rights Movement (YHRM) is an international NGO which was created in 1998 with a mission of bringing up a new generation of human rights defenders and civil society activists, mainly in Europe. It is a community of young people, civil organisations and groups sharing human rights values and striving to defend fundamental human rights, combat racism, xenophobia and intolerance, promote solidarity and mutual support. The YHRM headquarters is located in Voronezh, the Russian Federation, and its informational centers are based in Moscow (for Russia), and Berlin (for Europe).Hundreds of YHRM participants are united in thematic networks, such as the Youth Network against Racism and Intolerance (YNRI), International Network on Students Rights (INSR), Network of Civil Journalism (NCJ), International Youth Network of Human Rights Education and Civic Enlightenment (HRECE). YHRM is actively engaged in international advocacy with the OSCE, Council of Europe and the EU.
Kultur Aktiv
Dresden, Germany
Most of our projects touch more than just one of our tasks. Finding and using those synergies makes our work exiting and successful at all. Our goal is promotion of: art and culture, education, creative potentials, voluntary engagement, entante cordiale. Annually we perform several major projects together with approx. 30 individual events with about more than 100'000 participants and visitors. This achievement is made by 10'000 volunteer working hours. Our activities are: festivals, club concerts and parties, reading sessions, exhibitions, movies, flashmob actions, youth exchanges, multipliers´meetings, conferences, practical courses and voluntary services, training courses, workshops and discussions.
MitOst – Association for Language and Cultural Exchange in Central, Eastern and Southern Eastern Europe
Berlin, Germany
MitOst is a non-profit association founded in 1996 and until today it has grown to 1200 members in 40 European countries. It is a mediator and promoter of cultural and language exchange with focus on Central, Eastern and Southeastern Europe (CESE). While MitOst carries out projects focusing on citizenship, cultural, historical and political education, its members and employees are  dealing with visa restrictions in Europe. Visa liberalization has been an ongoing topic of the association for a long time and it is understood as a precondition for promoting and strengthening European citizenship and democracy.
MitOst is cooperating with several European foundations and numerous other institutions in German-speaking countries as well as in CESE. On the European level, MitOst is promoting a wide range of projects in the fields of strengthening European citizenship, activating young people to open new horizons, and non-formal education addressing young people as well as adults. In 2008-2010, the association has been supported by the EU within the program Europe for Citizens. This year it became a founding member of the EU-Russia Civil Society Forum.
Office for Democratic Belarus
Belarus/ Brussels, Belgium
The Brussels-based Office for a Democratic Belarus is a non-profit organization run by Belarusians living abroad. The Office's task is to strengthen ties between the Belarusian pro-democratic groups, including NGOs, political parties and the Belarusian independent media, and the EU institutions, the Council of Europe, NATO, the United Nations, international human rights groups and international press.
Open Estonia Foundation
Tallinn, Estonia
The Open Estonia Foundation (OEF) is a non-governmental not-for-profit public benefit foundation established in 1990 with the support of the philanthropist George Soros. OEF's goal is to help build open society in Estonia and other countries. Over the past 20 years the foundation's initiatives have ranged from school reforms to contemporary art and legal reforms. Today our focus is on strengthening open governance and civil society and reinforcing the principles of participatory democracy. Our activities are driven by a vision of democracy, civil society, social responsibility and equal opportunities in democratic decision-making processes.
Open Society Institute Azerbaijan
Baku, Azerbaijan
On a local level, OSI implements a range of initiatives to support the rule of law, education, public health, and independent media. At the same time, OSI works to build alliances across borders and continents on issues such as combating corruption and rights abuses.
Open Society European Policy Institute
Brussels, Belgium
Open Society European Policy Institute is the EU policy arm of the Open Society Foundations, which have worked for three decades to promote vibrant and tolerant democracies. OSI-Brussels works to influence and inform EU policies to ensure that open society values are at the heart of what the European Union does, as a policy maker and as a funder, both inside and outside its borders. The Brussels team provides evidence, argument, and recommendations to policy makers in EU institutions and member states. The Foundations' priorities include human rights, justice, and accountability pursued through a wide range of policy areas including education, health, media, information, arts and culture.
Open Society Georgia Foundation (OSGF)
Tbilisi, Georgia
The Open Society Georgia Foundation (OSGF) is committed to the development of a free and democratic society where government is accountable to its citizens and politics serves people. The Foundation promotes a vision of society in which human rights are protected and people are respectful of diverse opinions and ethnic backgrounds. The OSGF supports growth of independent media, protection of human rights, respect for the rule of law, development of the health sector and social integration of ethnic minorities and marginalized groups. The Foundation has a strong record of achievements in developing civil institutions and the media, promoting civil values, contributing to improvement of election environment, and increasing access to education and healthcare; it has also provided major support to European and national integration programs and the development of social equality.
Open Society Institute Sofia (OSI-S)
Sofia, Bulgaria
The Open Society Institute – Sofia (OS-S) is a public non for profit organization, which acts as a policy broker with a strong advocacy component. Its mission is to promote, develop and sustain the values, attitudes and practices of the open society in Bulgaria. OSI-S applies a broad range of instruments, including: independent civic monitoring and evaluation, performing research activities for public policies; building capacity in both public institutions and civil society to encourage civic participation. The OSI-Sofia targets a wide range of policy areas:
education, health, Roma inclusion, rule of law , European policies and civic participation. The European policies and civic participation programme has developed a wide European outreach under the European Policies Initiative (EuPI) to promote tools for effective civic and expert participation in the EU public policy making process with the focus on Central and Eastern Europe.
Östgruppen – Swedish Initiative for Democracy and Human Rights
Stockholm, Sweden
The Swedish Initiative for Democracy and Human Rights is an NGO based in Sweden. The organization has no affiliations either with a political party or any religious entity. Our vision is that everyone living in Eastern Europe and Central Asia shall live in peace and in a societal climate where their human rights are respected. They should have the possibility, in a democratic order, to influence their situation and the development in their countries. Our goal is to promote durable peace, democratic development and respect for human rights in Eastern Europe and Central Asia. The Swedish Initiative for Democracy and Human Rights therefore supports processes which aim at democracy and human rights as well as people working in that direction. The aim is also to spread knowledge and build opinion in Sweden concerning these issues.
PASOS
Prague, Czech Republic
PASOS supports the development and strengthens the outreach and impact of its 39 full members. PASOS builds upon the work undertaken by the Local Government and Public Service Reform Initiative (LGI) of the Open Society Institute (OSI) since 1999 to upgrade the institutional capacities of the OSI-related policy centres which operated until 2004 within a collaborative and supportive network known as the Related Centres Network (RCN). It is an initiative to strengthen independent think-tanks to ensure the lessons of transition are understood, shared, and applied. PASOS aims to promote and protect democracy, human rights and open society values – including the rule of law, good governance, and economic and social development – by supporting civil society organisations that individually and jointly foster public participation in public policy issues at the European Union level, in other European and global structures, and in the wider neighbourhood of Europe and Central Asia.
Partnership for Economic and Social Initiatives
Baku, Azerbaijan

Partnership for Economic and Social Initiatives (PESI) is a Baku-based think tank aiming to support social cohesion and economic development for better functioning market economy and rise of welfare in Azerbaijan. Since its inception, PESI has been working to promote social dialogue and partnership, benchmark innovative business practices, and stimulate sustainable and resilient business climate in the country. PESI remains engaged in a number of local and regional platforms. In 2013, PESI was represented in the Steering Committee of Eastern Partnership Civil Society Forum Azerbaijan National Platform and chaired working group on Economic Integration and Convergence with EU Policies. Currently, PESI serves as a member of Board of Directors of Azerbaijan Think Tank Alliance, and continues coordination of Environment and Climate Change Subgroup of EaP Civil Society Forum for the second consecutive term. In addition, PESI partakes in the Azerbaijani Chapter of UN Global Compact and acts as a local partner of Association of Developing Finance Institutions in Asia and the Pacific.
Polish-Ukrainian Cooperation Foundation PAUCI
Warsaw, Poland
The Polish-Ukrainian Cooperation Foundation – PAUCI was established in April 2005 as a legacy organization to the Poland-America-Ukraine Cooperation Initiative. Since 1999, this initiative served as a unique tri-lateral program aimed at sharing the best practices of Poland´s successful transition from a centrally planned economy to a liberal, market-oriented democracy.
The mission of the PAUCI Foundation is to build the capacity of Ukraine to integrate more closely with the European Union and NATO through the application of Polish and European experience and to facilitate extensive cross-border dissemination of knowledge and experience in key areas that impact human capital and civil society.
Public Movement "Multinational Georgia" (PMMG)
Tbilisi, Georgia
Public Movement "Multinational Georgia" (PMMG) is a civil movement created in 1999, uniting Georgian citizens representing different ethnic, religious, and linguistic groups. PMMG is an umbrella organization which provides resource support and cooperates with the representatives of the more than 18 diaspora and 56 grass-root NGOs working in the field of protection of rights of ethnic, religious and linguistic groups residing in Georgia. In the long-term perspective the Movement seeks to establish tolerance and diversity as natural conditions of the democratic society in Georgia.
Research Center of Slovak Foreign Policy Association
Bratislava, Slovakia
RC SFPA has been the first one in Slovakia to point to the importance of finding domestic consensus on foreign policy issues, stress the interrelation of domestic and foreign policies and insist on value-based, inclusive and expert approach to key issues facing Slovak politics. The Research Centre of the Slovak Foreign Policy Association (RC SFPA) was established in 1995 as a research and policy development unit of the Slovak Foreign Policy Association (SFPA). SFPA itself was founded in August 1993 as an open discussion forum on international affairs and the Slovak foreign policy. In 2003 RC SFPA was established as an independent think-tank. Its primary mission is to contribute to development of policies that help progress of Slovakia as an open and democratic society able to meet the challenges of global environment.
Romanian Center for European Policies 
Bucharesti, Romania
The Romanian Center for European Policies (CRPE) was established in 2009 by a group of experts bound by the shared objective of supporting Romania's role in Europe. The mission of the CRPE is to promote Romania as an influential leader in the development of EU agendas and policies. Another mission is to advance the Europeanization processes in Romania by providing expertise in various fields and by initiating or participating in public debates.
Romania's EU membership is a key milestone in the country's Europeanization process. While negotiating accession, Romania did not have a say in the policy making process. Now, as a full member, the country has the instruments to assert itself as an active policy-maker, able to balance and advance national and European interests. For this to happen, one needs to first understand the complexities of the European system of governance, to help define the interests of the whole spectrum of Romanian policy stakeholders, and then to design strategies to advocate them at EU-level.
Slovak Foreign Policy Association (SFPA)
Bratislava, Slovakia
SFPA was founded in August 1993 as an open discussion forum on international affairs and the Slovak foreign policy without links to any party or movement. Its overall goal is to enable an open space for free exchange of opinions and ideas on the scope of foreign policy. The SFPA is a voluntary association of individuals and bodies corporate with interest in the area of foreign policy. The main substance of its activities is to actively support integration of the Slovak Republic into the community of democratic countries and their political and security structures. The SFPA spreads unbiased information about international relations through its programmes based on primary sources. The association unites citizens of a varied political affiliation. Membership in the SFPA is available to everybody who is convinced of the importance of discussions concerning foreign policy and international relations issues.
Soros Foundation Latvia
Riga, Latvia
The priorities of the Soros Foundation–Latvia include strengthening democratic institutions, advocating for the rights of minorities and other vulnerable populations, and increasing social inclusion and civic participation. The foundation has been a key advocate for reforming Latvia's mental health system, supporting a number of strategic litigation cases that have resulted in increased human rights protections of people with mental disabilities as well as broader initiatives that provide them with education and job training. It has also led the way in replacing institutionalisation with community-based mental health care services.
Stowarzyszenie Projekt: Polska
Warsaw, Poland
Projekt: Polska gathers people willing to actively participate in public life and contribute to building Poland, which is open and ready to face the challenge of fast modernisation. The project consists of Polish, democratic and open organisation with 21 branches and membership open to everyone, a decision-making centre and the Foundation. Projekt: Polska is the first liberal, interdisciplinary think-do tank in Poland.
Stefan Batory Foundation
Warsaw, Poland
The SBF is an independent private Polish foundation established in 1988 by American financier and philanthropist George Soros and a group of Polish democratic leaders of the 80's. The mission of the Foundation is to support the development of an open, democratic society in Poland and other Central and East European countries. Our priorities include: enhancing the role and involvement of civil society in public life; promoting the rule of law and transparency in public life; developing international cooperation and solidarit. The Foundation works proactively, encouraging long-term thinking, partnership between the public and private sectors, innovative approaches, and coalition building in addressing social problems. In its activity, the Foundation is guided by the principles of transparency, openness and accountability.
Ternopilska Foundation
Żyrardów, Poland
Ternopilska Foundation is one of the first non-governmental organizations in Poland founded by a migrant from Ukraine, Marija Jakubowycz, in December 2009. The aim of the foundation is to create a platform for cooperation of migrants residing in Poland. The main objective of Ternopilska Foundation is the successful integration of migrants into the Polish society, while respecting their rights and culture, promoting standards and principles of functioning of a democratic society, and transfer of this knowledge to the Ukrainian realities. We will make every effort to build a positive image of Ukraine and its citizens within the international community.
Young Europe
Moscow, Russia
"Young Europe" is an all-Russian youth organization created in 2001 for assisting to social and cultural development of Russia in the spirit of common-human, common-European and humanitarian values in order to build the united Europe of the new millennium. Main objectives of "Young Europe" are: promoting "European values" (tolerance, intercultural dialogue, Human Rights standards, etc.) in Russia; promoting "oriental values" (culture, art, humanitarian (liberal) approaches and ideas) in the countries of Western Europe; resisting to the new "iron curtain" which is beginning to emerge between the countries of EU and Russia – by means of cooperation of young people from "the East" and "the West". In 2009 "Young Europe" in partnership with the international Youth Human Rights Movement and other NGOs carried out a pilot project of monitoring the work of consulates of 7 Schengen states in Moscow, Saint-Petersburg and Kaliningrad and prepared an information guide for young activists who want to get a Schengen visa.